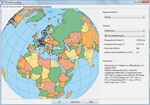 In spring 2016 we will release the new version of our hygrothermal simulation software WUFI® Pro 6. The most important new features and improvements include:
New, more stable and faster kernel
New climate menu which allows to pick the location from the globe, additional analysis of the climate files and possibility to plot courses of all climatic elements contained
New database for custom climates which can be made accessible also on the map
New interface for the material database with tree structure, comfortable search function and new possibilities to manage the user data!
WUFI® Graph for evaluation of the results allows a direct comparison of different cases within the same diagram, the comparison of 1D and 2D simulation results and the evaluation of average conditions over several grid elements – also for the relative humidity. This also allows for an evaluation of timber structures according to the new WTA guideline 6-8 with its requirements for transient wood decay evaluation.
WUFI® Pro 5 users can still benefit from the 20th anniversary sale and upgrade to version 6 within a time period of one month after release for the early-upgrade price of 720 € instead of 900 €.
We will inform in our newsletter and here on our website as soon as WUFI® Pro 6 is available.