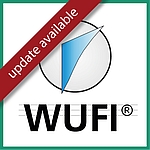 For our users of older WUFI® 10-year licenses, we are offering an early-bird discount of 10% for the upgrades to WUFI® 2D 4 and also WUFI® Pro 6 until the end of January 2018!
Prices:
Upgrade WUFI

®

2D 3 to 4: 1260 € instead of 1400 €
Upgrade WUFI

®

Pro 4/5 to 6: 810 € instead of 900 €
In our online shop the reduced price is automatically displayed.
Please note:
Upgrading from WUFI® Pro 4.x to WUFI® Pro 6 is only possible until the end of June 2018. Use now the possibility to update your WUFI® Pro 4 at reduced costs.
Information about our update and upgrade conditions can be found here.
The upgrade must be purchased through the online shop account where your existing WUFI® 2D license is deposited, the reduced price will be automatically displayed. If you no longer know your access information, please contact support@wufi.com in advance.
Click here for the online shop.