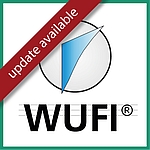 The new versions WUFI® Plus 3.2.0 and WUFI® Passive 3.2.0 have been released. Please find an overview of of new features and improvements in the update overview.
Get your new licenses now! WUFI® Plus and WUFI® Passive licenses remain at the current low price until March 18, 2019 and will increase afterwards.

The WUFI® online shop lists free-of-charge updates in the section "my orders", just follow the link to download the respective latest version. When you log in with your WUFI® account chargeable upgrades are also shown. When buying a new license of WUFI®, you will directly receive the latest version. Please extract the file and install the software using your existing licence number (usually identified automatically). Earlier versions do not have to be un-installed.
This version introduces the new PHIUS+ 2018 project certification. New features and improvements in WUFI® Plus and WUFI® Passive include:
WUFI® Plus
Improved shading and thermal bridge simulation
Enhanced ventilation controls
WUFI® Passive
New PHIUS+ 2018 standard with new advanced shading calculation
Updated reports and tool tips
WUFI® Plus is the most complete heat and moisture simulation tool in the WUFI® software family. In addition to simulating hygrothermal conditions in building components, WUFI® Plus simulates the indoor environment and is therefore suitable for addressing comfort and energy consumption in buildings.
WUFI® Passive allows a double assessment of buildings based on the same building model: Energetic assessment for the design and verification of buildings meeting the PHIUS passive house criteria and in addition dynamic building simulation like in WUFI® Plus.