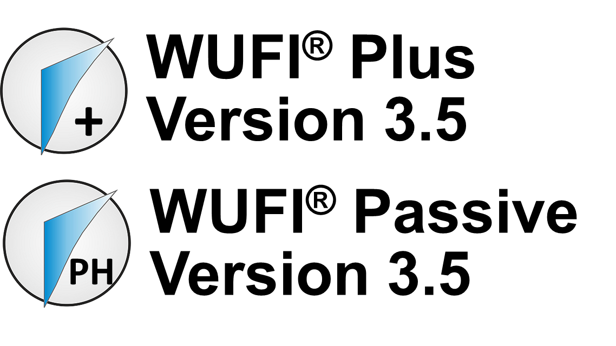 New versions of WUFI® Plus 3.5 and WUFI® Passive 3.5 are now available.
Users of WUFI® Plus 3.x and WUFI® Passive 3.x can download the update free of charge. You can find the corresponding link in your account in our online shop under "My Orders".
If you buy new, you will receive the new versions directly.

New features and improvements since the last release are:
WUFI® Plus/Passive
WUFI Database is now included in the installation file (this removes the need to unzip all before install – just one installation step needed anymore)
Fixed numeric rounding up/down in combination with ip-si conversion (e.g.: 1.5 or 1.499999999999)
After scope change from dynamic simulation to passive house verification: fixed a bug where artifacts from the dynamic shading simulation resulted in different monthly shading factors.
WUFI® Plus
Fixed the "Error in WUFI 1D kernel" Error, often occur if Inner sources in Components are used.
WUFI® Passive
Shading error: in case of changes that would affect the shading factor calculation especially the latitude, longitude or time zone, but eventually also building orientation, adding/removing or grouping/removing windows, changing the window reveal depth, changing surrounding shading elements, it could happen that the request to run the shading calculation again was not fulfilled. Thus, used shading factors did not correspond to the project input – wrong shading calculations were the result! The following steps are now added in this release:

The check for necessary shading calculation has been revised (calculate checksum).
No results are displayed when current shading factors are not valid anymore (due to changes to building geometry as described above).
The option to start a new shading calculation for control of the shading factor is always enabled (and recommended to be used for any major project step or before submission).

Add input check if distance from edge of glazing to reveal is within the overall window dimensions
Fixed an rounding and calculation error in the source energy target calculation result in an +/- 25 kWh/person.yr error (e.g. 5625 instead of 5600 kWh/person.yr).
➔ WUFI® Plus und Passive Update history:
https://wufi.de/en/software/wufi-plus/wufi-plus-wufi-passive-updates/
Users of older WUFI® Plus 2.x (10 year license) can upgrade to WUFI® Plus 3.3.0.. The upgrade conditions can be found here.
The upgrade must be purchased via the online shop account which contains your existing WUFI® Plus or Pass