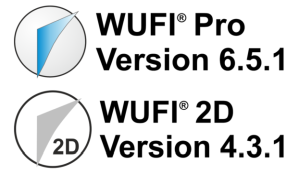 New versions of WUFI® Pro 6.5.1 and WUFI® 2D 4.3.1 with extended material and climate database are now available.
Users of WUFI® Pro 6 and WUFI® 2D 4 can download the update free of charge. You can use the link you received with your purchase of WUFI® Pro 6 or WUFI® 2D 4. You will also find the link in your account in our online shop under "My Orders".
When buying a new license of WUFI® Pro or WUFI® 2D, you will receive the new version of WUFI® Pro 6.5.1 or WUFI® 2D 4.3.1.

New features:
the material database has been extended by 28 new products
the climate database contains 66 new climate data sets for South Korea
WUFI
®
Pro 6.5.1 and WUFI
®
2D 4.3.1 come with WUFI Graph 2.24.1 and database version 27.1.8.
These new versions are available in our online shop where you can choose between time-limited licenses of either one or ten years in duration. Users of older WUFI® Pro 5.x or WUFI® 2D 3.x versions can upgrade to WUFI® Pro 6.4.1 pr WUFI® 2D 4.3.1. The upgrade conditions can be found here.
The upgrade must be purchased via the online shop account which contains your existing WUFI® Pro or 2D license.