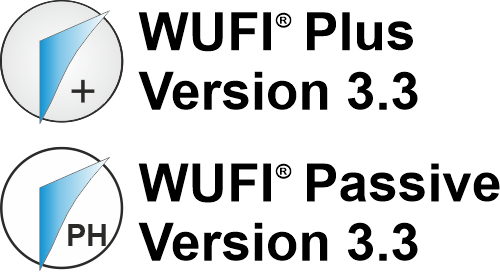 New versions of WUFI® Plus 3.3.0 and WUFI® Passive 3.3.0 are now available.
Users of WUFI® Plus 3.x and WUFI® Passive 3.x can download the update free of charge. You can find the corresponding link in your account in our online shop under "My Orders".
If you buy new, you will receive the new versions directly.

New features and improvements since the last release are:
WUFI® Plus/Passive
•  Update window database handling
•  Fixed HVAC database error by adding a new device
•  Fixed "Could not connect to database" error at first start after installation
•  Fixed Licence update information for new license
WUFI® Plus
•  Fixed and Issue with the WUFI component simulation
•  Improved 3D Object implicit calculation method
•  Added and impoved "Air" material in 3D objects
WUFI® Passive
•  Monthly detailed shading calculation for every window in a group
•  Added Certification criteria for
– PHIUS+ 2018 Core
– PHIUS+ 2018 Source Zero
– Phius CORE 2021
– Phius ZERO 2021
•  Fixed Issue to allow more than one heat pump and renewable energy device
➔ WUFI® Plus und Passive Update history:
https://wufi.de/en/software/wufi-plus/wufi-plus-wufi-passive-updates/
Users of older WUFI® Plus 2.x (10 year license) can upgrade to WUFI® Plus 3.3.0.. The upgrade conditions can be found here.
The upgrade must be purchased via the online shop account which contains your existing WUFI® Plus or Passive license.